World Knowledge Forum to Gather Global Leaders in Korea
The 19th World Knowledge Forum (WKF) is taking place at Jangchung Arena Shilla in Seoul from October 10 (Wed) - 12 (Fri) and is expected to welcome around 3,500 delegates.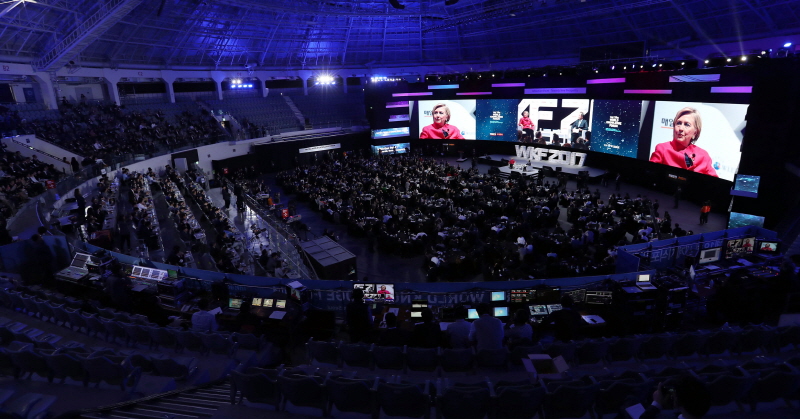 Photo: Former U.S. Secretary of State Hillary Clinton participated in the 18th World Knowledge Forum as speaker
First launched in October 2000, WKF serves as a platform to educate about pressing global issues and seek ways to promote a balanced world economic growth. This prestigious event is participated by heads of state and government, business leaders, and other public figures - further building itself as WEF Davos' counterpart in Asia.
The central theme of this year's forum is Global Challenges: Geopolitical Conflicts and Trade War. Event delegates will gain insights on the interesting developments of the diplomatic relations in the Korean Peninsula; how the blockchain technology is disrupting the existing monetary system; and ways to improve the quality of life beyond wealth and technology. The WKF is not complete without its prominent speakers and this year welcomes around 200 of them, including former UN Secretary General Ban Ki-Moon, founder of Crypto Exchange Miko Matsumura, Nobel Peace Prize Winner Kawasaki Akira, and the President of the Republic of Estonia Kersti Kaljulaid.
Korea is rising as a top meetings' destination with an ever-growing number of upcoming international conferences to be hosted in the country, including the 72ndCongress of the International Fiscal Association (1,600 pax), 22ndWONCA World Conference of Family Doctors (5,000 pax), and 82ndInternational Electrotechnical Commission General Meeting (3,000 pax). Meanwhile, the Korea MICE Bureau offers conference organizers specific tailor-made support, including cultural performances, tour programs, mobile app development, and more.
To learn more about the bureau's activities & support programs, visit koreaconvention.org
close