New MICE infrastructure to look forward this 2019 in Korea

With its existing renowned MICE venues, Korea is once again changing itself as a destination consisting of attractive MICE venues for visitors to enjoy. Starting from hotels to theme parks, the newly introduced venues below are going to make you stay there for another day. Look forward to these new developments as they are expected to be completed next year!

Don't forget to visit the website of the venue to briefly understand the site before your on-site visit especially hotels with many facilities ready for your premium hospitality experience. Also, check out the nearby MICE venues described below for your convention & meetings.
1. Keep your eyes on newly created Daejeon Expo Park


Established in 1993 following the closing of the Daejeon Expo, Expo Park will now be newly renovated into five areas – Memorial Zone, Science Complex Zone, Basic Science Institute Zone, HD Film Industry Zone, and International Exhibition & Convention Zone. With International Exhibition & Convention Zone, planning to be completed in 2021, it is expected that Daejeon will have the biggest MICE infrastructure in Chungbu region (central part of South Korea) by then. As the action plan for the park's recreation has been set, nearby commercial facilities, especially Doryong hausD Lafayette, are also getting attention. The hausD Lafayette, with its interior designed in European style, is a shopping complex that consists of 778 roomed apartments. It is expected that people visiting Expo Park can enjoy the premium shopping and food experience at the complex.

Doryong hausD Lafayette
Location: 4-9 Doryong-dong, Yuseong-gu, Daejeon

Daejeon Expo Park
Location: 480, Daedeok-daero, Yuseong-gu, Daejeon
Closing Date: Every Monday

Nearby Venues: Daejeon Convention Center (DCC), located near the Expo Park, is a state-of-the-art facility with a grand ballroom and an exhibition hall that can provide up 1,500~2,000 seats. The center boasts 17 meeting rooms including 8 medium-sized meeting rooms and 6 small-sized meeting rooms on the 2nd floor. Under the Daejeon-Chungcheong MICE Alliance, a consultative body for the MICE of Daejeon and Chungcheong Province, the center and the partner companies provide a one-stop service for the business traveler.

2. Your trip in Korea starts from Incheon, Caesars Korea Integrated Resort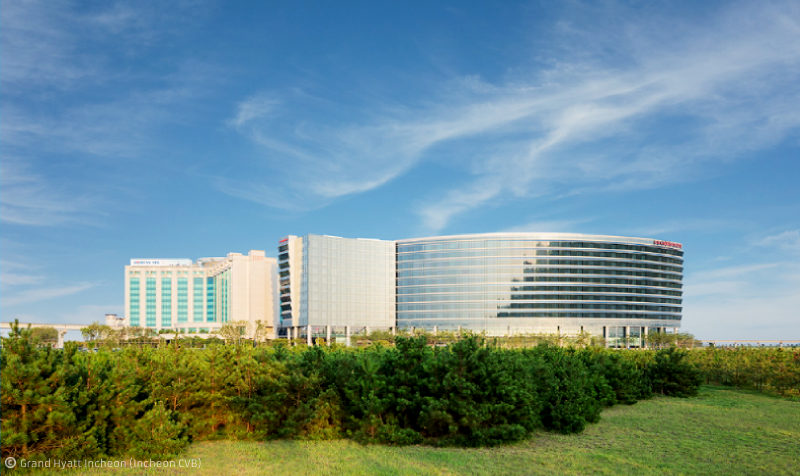 Caesars Korea Integrated Resort (RFCZ Korea), planned to be created by 2021, is a new establishment located at Midan City in the northeast part of Yeongjong island, a home to Incheon International Airport. This newly created integrated resort will have a foreigner-only casino with never-seen-before features and creative amenities. The resort will also consist of facilities for visitors to enjoy, whether general or MICE purposed, such as luxury hotel & residences, hotel-integrated conference center and meetings rooms, multiple live entertainment venues, celebrity chef restaurants & bars, outdoor amphitheater, etc. From luxurious accommodations to limitless amenities, the property will afford guests the opportunity to indulge in every contemporary luxury imaginable. Suited for the MICE visitors, the resort will provide two of the largest ballrooms and meeting rooms attached to any 5-star hotel in Korea.

Caesars Korea Integrated Resort
Location: Unbuk-dong, Jung-gu, Incheon (Planned)

Nearby Venues: Strategically located at the International Business Center, Grand Hyatt Incheon is set to take its place as the city's premier venue for corporate meetings and conventions. The hotel houses event venues of all sizes in its East and West Tower that can stage and orchestrate memorable events, from a meeting of 10 to reception of 1,200. The establishment not only representatively houses a 1,250m2 Ballroom that can accommodate up to 830 people in a banquet setting, but also has various meeting spaces and event venues that can handle more than 50 people.

3. Entertainment & Cultural Hub at the gateway to Korea, Hansang Dream Island
Hansang Dream Island, planned to be built on an area between Yeongjong Island and Cheongna International City, Incheon, will become the business & cultural hub for global leaders operating businesses around the world. The Dream Island will consist of a water park, an aquarium, luxury hotels, shopping malls, marina resorts, theme parks, etc. Visitors from Seoul and Gyeonggi-do will be able to access the island easily with Airport Railroad, AREX. Its proximity to Incheon International Airport will also be a feasible option, as it can cater to a massive influx of travelers and passengers wishing to enjoy brief rests before departing.

Nearby Venues: Paradise City, placed right next to Incheon International Airport, is an art-inspired resort complex with must-see venues including glamorous hotels, a club, casino, plaza, convention, etc. The convention offers banquet hall facilities for holding a wide range of events that meet the different needs of customers. Not only does the convention consists of the grand ballroom for large-scale international conferences and other events that can accommodate up to 1,820 people, but also has various-sized meeting rooms with state-of-the-art facilities and services. The resort also boasts venues with exquisite exterior and interior designs that capture the visitors' eyes.

4. Discover the exceptional luxury at Gangnam District, JW Marriott Hotel Seoul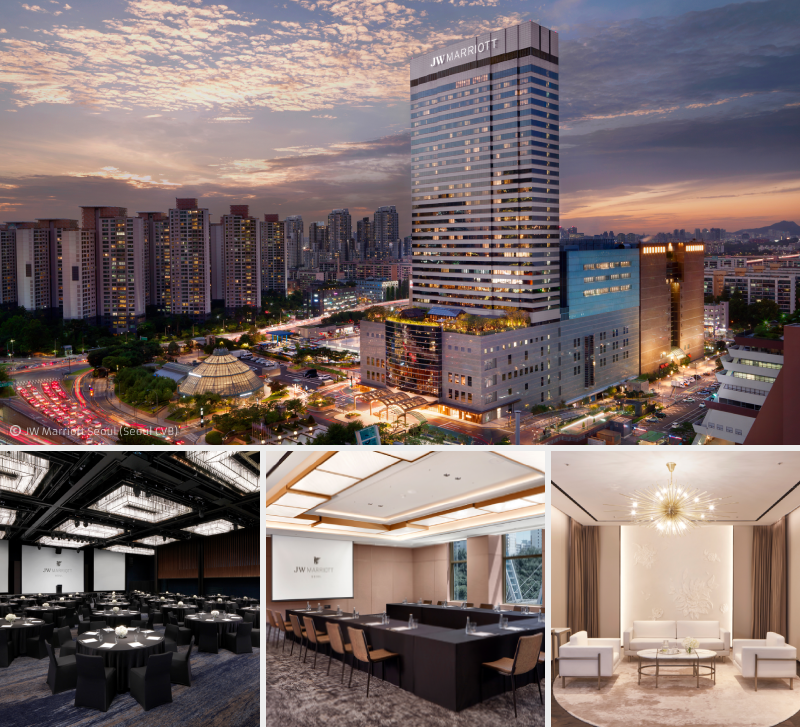 JW Marriott Hotel Seoul, a hotel operated by Marriott International, offers travelers to Korea an unrivaled luxury experience with its 379 guest rooms, including two penthouses and 32 suites. Guest rooms, which are elegantly combined with traditional Korean and modern interior notes, are designed to offer the perfect ambiance to reach true relaxation and enjoy a sound sleep. On August 20th, 2018, the hotel reopened after its first renovation ever since the grand opening in 2000, to offer customers more diverse services. As to mention a few, the newly created Executive Lounge doubled its size and offers dining which includes well-being breakfast, light lunch, afternoon tea, evening hors-d'oeuvres, evening cocktails, and cordials & desserts. Located in Central City, at the heart of Gangnam District, the hotel provides a seamless connection to all central areas in Seoul that gives a variety of leisure options including gourmet dining, shopping, culture, and entertainment.

JW Marriott Seoul
Location: 176, Sinbanpo-ro, Seocho-gu, Seoul

Nearby Venues: A representative art and culture complex of Korea, Seoul Arts Center consists of five main buildings: The Opera House, the Music Hall, the Hangaram Art Museum, the Hangaram Design Museum, and the Seoul Calligraphy Art Museum. The Center was built to the quality of the world's ten best art centers, with its Opera House standing in the middle representing Gat – a traditional Korean hat made of bamboo. The center is the home to the Korea National Ballet, the National Opera, the Symphony Orchestra, etc.
close